×
[PR]上記の広告は3ヶ月以上新規記事投稿のないブログに表示されています。新しい記事を書く事で広告が消えます。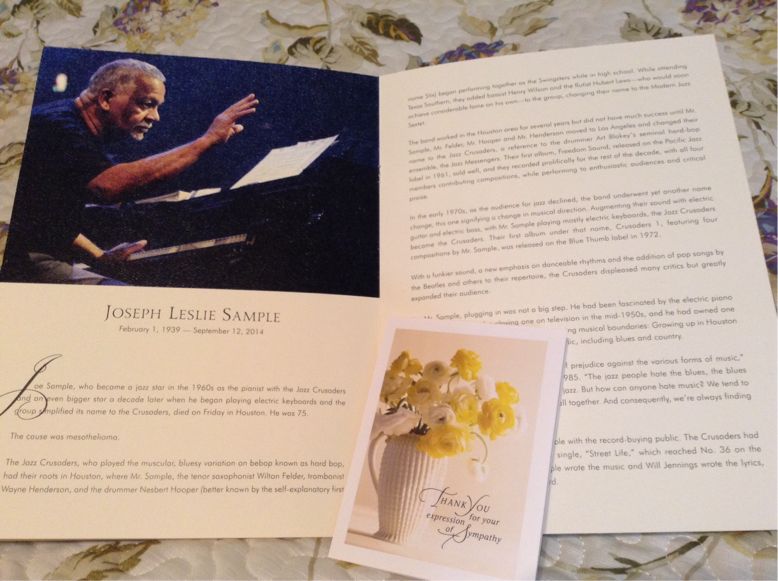 ジョー・サンプルの告別式に出席されたシアトル在住の菊池晃一郎シェフから、参列者に配られたプログラムが届きました。地元ヒューストンで行われた葬儀の後は、一時高速道路が封鎖され、白バイの誘導の下、ジョーの棺が墓地に向けて出発。街を上げての葬儀の様子に、どれだけ彼が地元の人達に愛されていたかを感じ、熱いものが込み上げてきたそうです。奥様のヨランダから、今迄ジョーの音楽を愛し、支えてくれた日本のファンの方々に呉々もよろしくと、メッセージも頂きました。教会で行われたミサでは、大画面でジョーの映像と音楽が流れ、ジョーの盟友ヒューバート・ローズ、ボビー・ライル等が演奏。音楽と愛に溢れた式だったそうです。
Joe Sample, who became a jazz star in the 1960s as the pianist with Jazz Crusaders and an even bigger star a decade later when he began playing electric keyboards and the group simplified it's name to the Crusaders, died on Friday in Houston. He was 75.(Sited from mass brochure.)
"The apple does not fall from the tree"is the age-old phrase.
In the swamp-like, clay soil of Southeastern Texas,apple trees are few and far between. However pecan trees flourish.We had a big pecan tree in our front yard.It was a magnificent tree,created to bear delicious fruit and shield us from the intense heat of the mid-summer sun. I was proud of that tree, and it proclaimed to the neighborhood that,"The people who live in this house must be important." It was one of my best friends and it befriended all of the kids on the block. We loved its wonderful super pecans, and had to protect it from pecan raiders. It died of old age. (the rest is omitted.)
Healing was the daily business of the culture. The roots of spirituality bound everything. Those roots are anchored in the nourishing clay of the Southeast Texas Delta under the branches of the pecan tree.
I did not fall from that tree. A slice of pecan pie is still a very good thing.
Joe Sample "The Pecan Tree"
This notes dedicated to his 2002 album"The Pecan Tree" is also quoted from the mass brochure on his funeral.
Joe Sample is survived by his wife Yolanda and his sister Julia, and his son, Nicklas, three stepsons and six grand children.
Now I am writing this blog listening to your splendid album"
The Pecan Tree
."
Whenever we listen to you music, we can always be near you. You are now a big pecan tree growing in heaven.
Thank you Yolanda, Ko, Akiyo for sending me an elegant brochure.
1000 Winds - Single
nona
価格: 200円
posted with sticky on 2014.10.09
PR